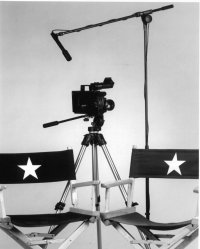 THE
ACTING
STUDIO
Bill Smith
1170 Krameria Street
Denver, Colorado 80220

303-322-9932
Bill491@ix.netcom.com
---
The Acting Studio is a workshop for actors committed to the pursuit of excellence in the craft and business of acting. Ongoing workshops focus on you and the Colorado acting industry. Not a "trade school" or talent agency, it's a practical alternative where you train in a professional environment and network with working actors. We accept, by audition, beginning actors who show talent and enjoy acting as an avocation.

At The Acting Studio, study an eclectic acting method that brings truth and spontaneity to every role, for film or stage. Scenes and improvs are coached and directed to pinpoint problems and strengthen personalized choices. Sharpen cold copy skills, master script analysis, and train to perform in commercials, voice-overs, industrials, motion pictures and stage. Weekly workshops are limited to eight actors, insuring that you perform constantly, on-camera. We offer complete video & audio facilities. Coaching -- professional and affordable -- centers on you, your talent and marketability.

WORKSHOPS AND PRIVATE COACHING

FILM AND TV ACTING
ACTING FOR THE STAGE
AUDITION MONOLOGUES
ADVANCED SCENE STUDY
COMMERCIAL AUDITIONING
CLASSICAL & VERSE ACTING
COLD COPY READING (50/50 TECHNIQUE)
VOICE-OVER DEMO SCRIPTING
VOICE-OVER TECHNIQUE *
VOICE/SPEECH TRAINING
THE LESSAC SYSTEM
STAGE DIALECTS
"EAR" TRAINING


The Acting Studio continues to offer ongoing weekly workshops in acting for the camera and for the stage ( Tuesday evenings -- $180 per month). Master classes are presented several times a year. Private coaching is available in voice & speech, dialects and voiceover (by appointment -- $220 per 4 one hour sessions).


Auditions are free and last half an hour. Please bring a headshot and acting resume, if you have these marketing materials. But if you don't, audition anyway.... The Acting Studio accepts talented beginners and advanced actors. Part of the training at TAS includes consultations on the business of acting (headshots, resumes, agencies, unions, etc.). You have two audition choices: 1) Bring a prepared, rehearsed monologue suitable to your look and type.... one to two minutes; or 2) Plan on doing a "cold reading" on camera. In either case, I'll give you some coaching, and an opportunity to do two or three takes. This gives me a sense of your talent level, and you -- an opportunity to experience my teaching techniques.


TESTIMONIALS

Sara Liles Olson, Producer, Flash Features - "Acting Studio actors are enthusiastic, well-trained and talented. They know protocol on the film set, crucial to use because we move so fast."
Peggy Larson, Colorado Casting - "TAS is the best actor training around. Whether they're union or non-union, the are polished, professional and ready to work."
Big Fish Talent - "I count on TAS. Their actors always deliver and they upstage most of the actors I see."

ACTING AND SURVIVING IN COLORADO is the core of TAS coaching. Discover what makes a good headshot. Know your rights as a non-union or union actor. Learn how to interview and sign with the best agent .

RESUMES ON DISK - Laser printed resumes include an interview, "proofs," and edited copies.

LOW BUDGET VIDEO PRODUCTION - The Acting Studio produces "stream-lined" marketing videos (videography: direction & script writing: Bill Smith).

PROFESSIONALLY SPEAKING - For business and marketing professionals -- private coaching in Interviewing for the Job, Closing the Sale, Public Speaking, Overcoming Stage Fright, Media Skills for Broadcast and Satellite Up-Link.

VOICE-OVER DEMOS - Training, scripting and pre-production, tailored to your needs.

STORYTELLING - Private coaching and workshops for storytellers.

Bill Smith (SAG & AFTRA) boasts four decades of stage and film credits as actor, director, producer. He earned an MFA in Directing from Ohio University and studied with Bobby Lewis, Stella Adler, Cicely Berry and Arthur Lessac. He taught conservatory acting at Cornell University and Pomona College. He was artistic director of Ryor's Cabaret and TAMRAC Theatre. Bill writes plays, training videos and film shorts and also writes articles for Hollywood Reporter, Backstage, Reel Focus, Encore, Exposed, etc.. He created The Acting Studio in 1982 as an alternative for training for stage and film actors. In 1995, The Studio added a production division for marketing demos and low budget film projects.

The TAS address is 1170 Krameria St. It's in east Denver, a mile east of Colorado Blvd. and three blocks south of Colfax and is on the South East corner of Krameria and 12th. It's a red brick ranch style home and there is plenty of parking.

TAS Newsletter

TAS Topic of the Month

Requested Articles

ARCHIVES - Ask for Help

* Voice/Speech Voiceover

This page has been accessed times.